OIDEL hosts "Education as a Cultural Right" dialog
June 5, 2021
The discussion, led by three panellists about the place of culture, identity and the sense in educational policies
GENEVA (JUNE 5, 2021) - Last May 31st, OIDEL hosted "Education as a Cultural Right" dialog. A debate introduced by Ignasi Grau, OIDEL's director, led by three panelists: Inger Enkvist, hispanist and essayist, Gregorio Luri, philosopher and pedagogue, and Miguel Ángel Quintana Paz, ethics and philosophy professor.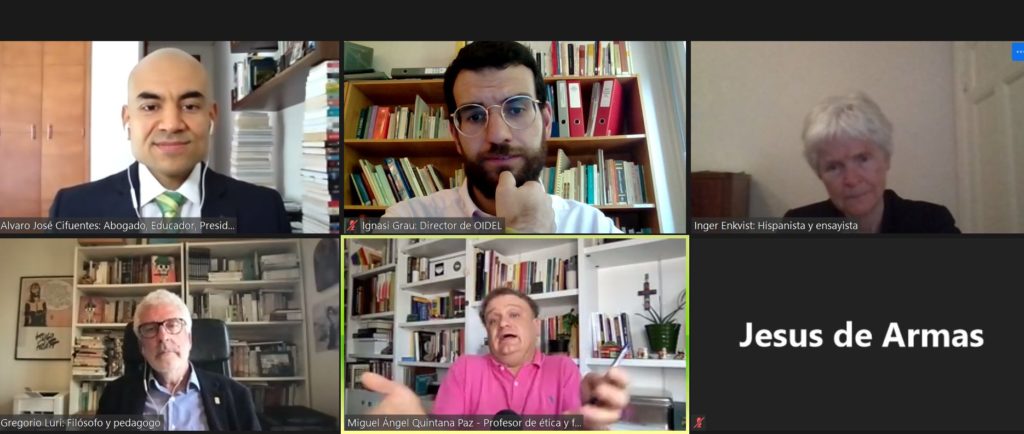 The event's core issue, education as a cultural right arises after the publication of the mandate A/HRC/47/32, presented by the Special Rapporteur to the United Nations Human Rights Council. This mandate was finalized thanks to the participation of civil society and tries to examine the crucial issue of the right of all persons to access quality education without discrimination, and to provide recommendations to Governments and other stakeholders, meaning that it calls for the right to education to be viewed as a cultural right.
Álvaro José Cifuentes, lawyer, educator, president of ILL and RIIDE and this debate facilitator, fostered a discussion on the place culture, identity and education policies in nowadays societies, dividing the deliberation into four segments:
The importance of education overcoming its exclusive training skills
The construction of personal identity and the finding of an own sense
The importance of exercising virtue and finding the equilibrium with the teaching of values
How to foster patience
Through this event, OIDEL seeks to awaken social interest in education matters for the future international debates, as well as national debates in the Spanish-speaking countries.
Watch video link here