New guidance for monitoring education Law and Policy
They are the result of fruitful collaboration between the Education Sector of UNESCO and OIDEL, an international non- governmental organisation (NGO) – coordinating a platform of 23 NGOs, whose prime objective is to promote the right to education as a fundamental human right.


Freedom of education index

Since 1985, OIDEL made three reports on Freedom of Education worldwide (1995, 2002, and 2008). Together with Novae Terrae Foundation, OIDEL is preparing a new edition of the report on freedom of education but including this time a Freedom of Education Index (FEI). This FEI will allow better comparison between countries based on article 13 of the International Covenant on Economic, Social and Cultural Rights. We want to work with a limited number of indicators, given that the research will have a worldwide dimension. The availability of date on a global scale is essential.
A holistic approach of education
Position paper of the NFO Platform on the Right to Education on the UNESCO POST-2015 Education Indicators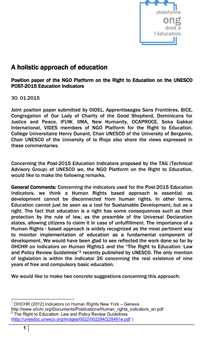 Décennie internationale
pour le rapprochement des cultures
* Textes internationaux sur le dialogue interculturel. Décennie internationale du rapprochement des cultures (2013-2022)

* Disposiciones internacionales sobre el diálogo intercultural. Decenio internacional de acercamiento de culturas (2013-2022)